Vivid Seats fees vs. SonicSeats no fees, lower prices, free shipping
Compare prices after Vivid Seats fees
SonicSeats.com is the only website that sells real time tickets with free shipping and no service fees. No Vivid Seats fan codes, discount codes, or promo codes needed!
Let us show you what we mean. If you go to www.vividseats.com and look for tickets to the New York Mets vs. Miami Marlins game on September 23, 2019, although tickets may initially look cheaper on Vivid, when you get to checkout and enter all your shipping and billing information, you will see a higher price compared to SonicSeats:
Vivid Seats Price: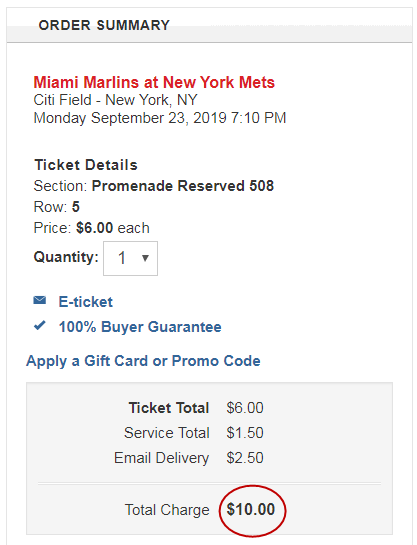 SonicSeats Price: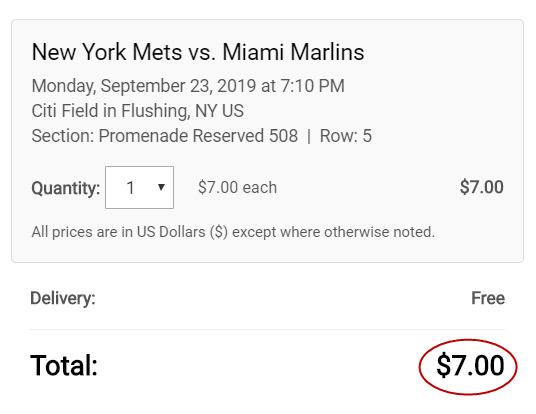 You might think the other site is cheaper when comparison shopping. However, oftentimes people looking for the best price for tickets get thrown off by drip pricing.
Vivid Seats charges $1.50 per ticket for service charges and $2.50 per ticket for delivery fees. The total for a single ticket to this game is $10.00 after Vivid's added fees.
On SonicSeats there are no service charges or fees, so the total is $7.00.
That ticket that looked cheaper on Vivid Seats actually costs 43% MORE than it does on SonicSeats due to Vivid Seats fees!
At SonicSeats, we believe in providing straightforward pricing with no hidden fees, reflected by our superior Shopper Approved satisfaction rating. You will also find SonicSeats conspicuously missing from consumer complaint websites, while Vivid Seats appears with a dismal 1.5 star customer satisfaction rating on ConsumerAffairs.com, for example.
Your feedback is appreciated! Please let us know how we can improve our service.
More savings with SonicSeats!
| Event | Tickets | SonicSeats | Vivid Seats | StubHub |
| --- | --- | --- | --- | --- |
| | | | | |
| | | | | |
| | | | | |
| | | | | |
| | | | | |
Prices as of 5/8/2019